| | |
| --- | --- |
| Enter word or sentence in Polish or in English: | |
| | |
Translation:

No translation.


| | | |
| --- | --- | --- |
| ECTACO SpeechGuard TLX: Rugged World Travel Smartphone, Voice Translator & Language Assistant. | With the C-Pen you can scan and load printed text to your computer with no strings attached. | Free speech electronic translator - Translates anything you say. |

ECTACO Partner EP900 Deluxe - English <-> Polish Talking Electronic Dictionary and Audio PhraseBook with Handheld Scanner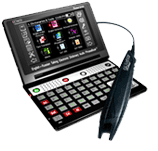 Best for language learning
The all-new ECTACO Partner EP900 Deluxe - English <-> Polish full text translator and scanner is our most sophisticated and functional dictionary ever. Featuring professionally narrated voice output, bi-directional full text translation and a speech recognition based learning system, it acts as your own personal language instructor. With the EP900 Deluxe it is now easier than ever to translate and learn Polish or English! The included Ectaco/C-pen handheld scanner allows you to quickly scan and upload any text for instant translation and voicing. Valuable extras include a Video Player with mp3 support, our popular jetBook e-Book reader and much, much more.
3-for-1 Offer! Buy the English <-> Polish Partner EP900 Deluxe and get the traveler's 10-language Universal Translator ML350 ($100 value) and the P900 Accessory Pack ($100 value) absolutely FREE!

Welcome to our
e-shops: , , , , , and !
English <-> Polish Talking LingvoSoft Translator!
Translates any text at a touch of a button and speaks the translation out loud! Now available for and

Buy our Polish handheld Dictionaries

Your cost-effective solution for language studies! Contains our latest software releases for major operating systems!

Unique learning tool that acts as your own personal tutor to gradually build up your vocabulary and pronunciation through lessons and quizzes.
Try for other languages: , ,
Place our Dictionaries and Translators on your site